Name:
Vincent Xelfor
Gender:
Male
Age / Birth-date:
173 / 01/03
Sexuality:
Heterosexual
Race:
Demon
Race Description:
Corruption Demon
Racial Perks:
Beauty in decline:
A demon of corruption and decay, he spreads it naturally. He is able to cause localized corruption, his magic soaking into objects, plants, even people. It can help to start the process and soften up victims. Works faster in smaller and simpler organisms, but the corruption will fade from larger or more complex organisms after a short time. Repeated or prolong exposure can begin to have lasting effects, and people are more susceptible when mentally or spiritually weakened.

Demonic physiology: Vincent is stronger, faster, and more durable than humans, as well as heal minor wounds more quickly.

Positive Traits:


Intelligent

Friendly

Determined

Negative Traits:


Cruel

Manipulative

Deceitful

Likes:


Reptiles

Decay

Hot weather

Curry

Dislikes:
Motivations:


Create a wide garden of corruption and decay

Become a top-tier demon

Corrupt the hearts and souls of the pure and good.

Fears:


A world without decay and darkness.

Being sealed away.

Burning, holy light


Personality:
Vincent is a devious fellow, desiring the spread of darkness and corruption. He loves the sight of decay, physically, mentally, and spiritually. It is in his nature, and it has been what he has loved and wanted since he first spawned. He will employ whatever methods he must in order to achieve his desires, no matter how bloody or dark. All are simply stepping stones on the road of his ascension, or obstacles to be overcome.


You can use the word loyalty in relation to him very loosely. He is loyal to one above him so long as it is more beneficial that eliminating them, as so long as he is unable to. He will also not strike out against other demons and fiendish creatures so long as their goals don't interfere with his own, and will gladly work with others whose ends align with his. Corruption has many agents after all, and the joining of their powers is sometimes necessary for the spreading of its shadow.


He takes pleasure in the struggles and sufferings of others, especially when he helped to cause them. From overt pain to psychological torment, it fills him with satisfaction and amusement. He can of course show some semblance of kindness and pleasantness to others, but that mainly comes from whims or serves his purposes at the time. But often, in the back of his mind, he considers how best to corrupt or torment people he interacts with. Especially the pure and good. He most enjoys ruining them, bringing them to despair or darkness. Corrupting the hearts of noble warriors and turning them is a wonderful hobby in his mind, and sees it as liberating them from their cages.





Height:
5'11"
Weight:
180lbs
Hair:
Blonde
Eyes:
Yellow
Skin Tone:
Fair
Overall Appearance: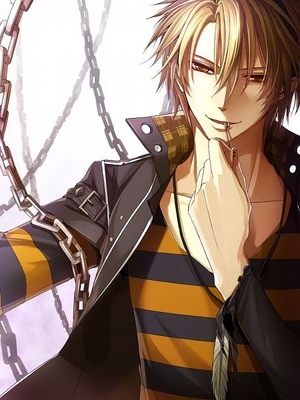 Guild:
Nightmare Incarnate
Guild Tattoo:
Between his shoulder blades